Nobody crosses the eight lanes of Flatbush Avenue in the Park Slope neighborhood of Brooklyn without a walk signal. 
But on a summer evening more than three decades ago, 29-year-old Michael Anderson stumbled out into high-speed traffic after a long night of drinking. It was just past midnight, but cars and buses streaked past him on one of the busiest roads in New York City. Horns blared as drivers narrowly avoided hitting him.
"My marriage was falling apart, everything was crumbling around me," he recalled. "I was drinking and fighting all the time. I am not a suicidal guy – but one night I was." 
While he stood in the midst of chaos, Michael heard a sharp, nasal "peet peet" calling from above.
"I looked up and it was a common nighthawk. They make this goofy distinctive sound that I instantly recognized from working at the American Museum," he said, referring to his job at the American Museum of Natural History in Manhattan. "And I thought, if this bird can make it in evolution for 10,000 years, maybe I can make it through tonight."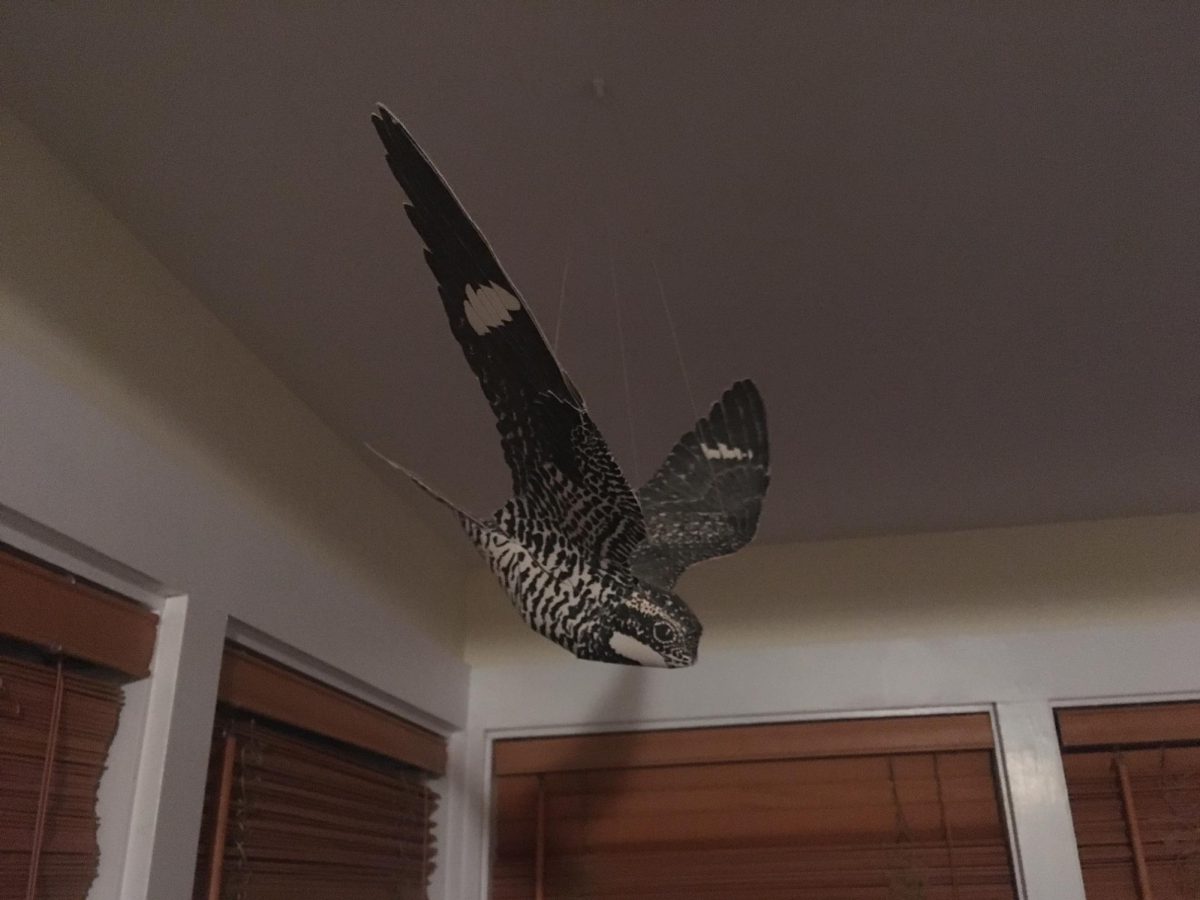 Michael returned to the sidewalk and went home to his apartment, forgetting all about the nighthawk that saved him. The significance of the small bird with wide boomerang-shaped wings and mottled brown-and-white plumage did not come to him until later. 
"It wasn't until three or four years later that I realized this bird was my intervention," he said. "It had made a difference for me and had given me a little bit of hope to where I felt like I could go on."                                               
---
Michael Anderson grew up in the suburbs of Saint Louis, Missouri – the middle child, with a high-achieving older brother and a younger sister.  
"I was always in my brother's shadow. At school people would say, 'Oh you're Tom Anderson's brother.' I was a kind of black-sheep guy and my grades were never good while his grades were great."
When Michael was 14 years old his parents divorced. He had a strained relationship with his mother and his father was a traveling salesman and an alcoholic.
"We all kind of exploded. My brother got in trouble, I got arrested a few times shoplifting and my sister got involved with a guy on a motorcycle."
That same year, Michael started drinking.
"I was angry, I was running around, and I thought I was a badass, but I wasn't," he said. "I was just a middle-class kid who was bored. It caused me a lot of problems down the road, and I didn't stop drinking until I was in my 30s."
Michael's public high school experience provided no support or guidance at a time when he needed it the most. In a graduating class of 270 students, Michael quickly fell through the cracks. "There was no safety net there and I was glad there wasn't," he said. "I wanted to fall through."
After graduation he attended Drury University in Springfield, Missouri. It was 1972 and Drury had just turned from a Presbyterian religious school to a public secular college. More than 90 percent of the students belonged to a sorority or fraternity, but Michael took his own path. "I stubbornly decided I was not going to join," he said.
In turn, his classmates socially ostracized him. They wouldn't eat with him in the dining halls and his roommate switched rooms. After one year Michael transferred to the University of Oregon. 
Within three weeks he met a girl who, as Michael put it, liked "to drink wine and take downers" – and that's what they did. In less than a year, he dropped out. 
For a while he worked various odd jobs. "I became a hippie, worked in the lumber mills which was a pretty awful, scary place," he said. He followed with a job at a greenhouse, then another as a sandblaster but eventually was unemployed. He was living on food stamps. "Unemployment was great, I loved it, that's what hippies do." 
When he eventually went back to school, he enrolled at Lane Community College in Eugene, Oregon, taking figure drawing classes. Michael fell in love with art and transferred to the Portland Museum of Art School.
"That was my first art school experience and at that time I was drinking and drugging heavily because that's what artists do, you know," he said. "At least that's the myth anyway." 
All the while, Michael yearned to be in New York City, a mecca for artists and a magnet for unfettered souls. He applied to Pratt Institute and was accepted as a work-study student. He and an art model he was dating at the time packed their bags and moved, marrying soon after settling in the city. 
"New York City blew my mind. I got the bug for art where I couldn't read or study enough about it," he said. 
While he was studying, his wife got a job with a neighborhood organization as a tenants' rights organizer. Michael quickly became politicized by her work. 
He began reading literature that focused on leftist theory and criticism and soon became involved in a political art group called Political Art Documentation Distribution, or PADD. Michael and others from PADD formed a group to fight gentrification on the Lower East Side of Manhattan.
"We did a lot of political street art," he said. "We put on art shows on street corners and in abandoned warehouses. It was an exciting time, a crazy time, and a very alcoholic time for me, too."
After graduating from Pratt, Michael started a job at the American Museum of Natural History in Manhattan, working in the vertebrate paleontology department for a year before transferring to the exhibit department in 1981. That's where he met chief taxidermist Dave Schwendeman, who had been working at the museum for more than two decades and focused on birds, reptiles, amphibians and fish, primarily from North America.   
It was Schwendeman who taught Michael how to mount a bird – the proper term for what taxidermists do. The process starts by making a central incision and peeling back the skin to separate the legs and wing bones. The skin is inverted inside out over the body right up to the bird's beak, then the blood is drained. The organs and muscle tissue are removed and the remaining bones are cleaned and left attached to the skin. Then a taxidermy body is sculpted with hemp-like excelsior to mimic the size and shape of the bird. The body is wired into the remaining bones and the skin re-inverted and sewn up along the central incision.
Michael learned how to clean and paint the legs, beaks, and tissues of birds to resemble real life. At 26 years old, his starting salary was $9,000 a year, barely enough for him to take the subway back and forth to work.
Financial hardship was just the beginning. Before long, Michael's marriage was falling apart and his entire Brooklyn neighborhood went on a rent strike. "I was just out of control and I was so angry," he said. "We lost all our battles with gentrification – I think only one person remains there now."
Every night Michael went drinking with a group of interns at the museum who were geology majors studying to be paleontologists.  Their passion for anatomy, specifically skulls, sparked something in Michael that would put his life on a new trajectory. 
And memories of the nighthawk – and his choice to keep living – suddenly resurfaced.
Michael had a friend who worked at New York Presbyterian Hospital and allowed him to dissect cadavers and make molds of different appendages to learn the intricacies of the human anatomy. Around the same time, Michael took a freelance job for the Maxwell Museum of Anthropology in Albuquerque, New Mexico, to reconstruct full-size figures of a Neanderthal, a Homo habilis, an Australopithecus, and a modern human. This project would take two years to complete but the model-making skills he learned would last a lifetime. 
"This all came together at a certain time. I was divorcing my wife, my job at the American Museum was pretty much done, and then this job at the Maxwell Museum happened."
Cutting ties with New York City, Michael moved to Chicago in 1986 to enroll in a two-year medical illustration program that enabled him to continue dissecting cadavers to learn every muscle, bone, nerve and ligament in the human body. Although he was trained in medical model-making and maxillofacial prosthetics, he didn't love the hierarchy of hospitals or having to "look the part" as he called wearing a suit and tie to work.
After graduating from his program and completing his freelance job for the Maxwell, Michael went to work at the Yale Peabody Museum of Natural History in New Haven, Conn. "I fell in love with the place immediately," he said. Unlike the museum in New York, "this place seemed more like a family."
He loaded up a rental truck and moved to New Haven. 
His new job as museum preparator required him to care for the dioramas painted by James Perry Wilson, an American painter, designer and architect known for his naturalistic but scientifically accurate historical dioramas. Michael was responsible for installing and dismantling these three-dimensional scenes, each modeled on a specific place at a specific time and brought to life by taxidermy specimens, vegetation, and other historically accurate objects.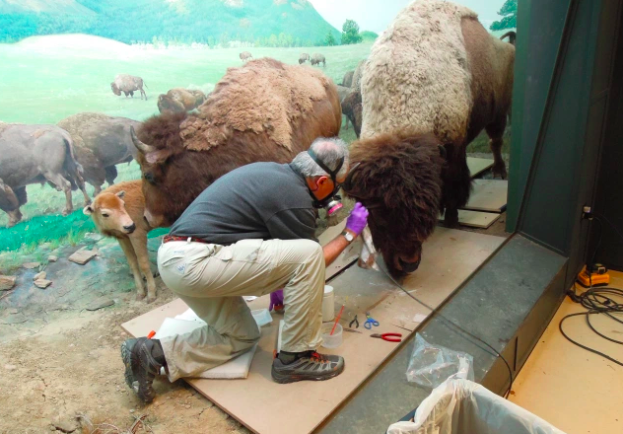 He worked four days a week at The Peabody and one day a week training with taxidermist Ralph Morill, who also taught him various diorama fabrication processes. As Michael recalls, Morill was "hard as nails" on his protege, making him redo his first mounts over and over again until they were perfect. This tough-love mentorship grew into a close friendship with Michael considering the older man a "father figure."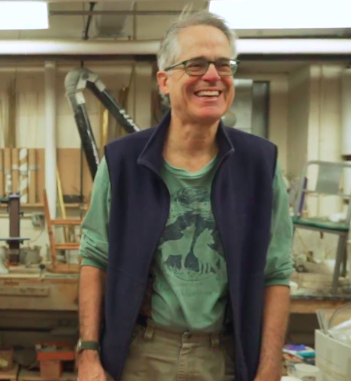 Michael, no longer a full-time student, had more free time on his hands. He knew he had to quit drinking, or he would lose his job. "I stopped drinking when I came to New Haven in November of 1988 and somehow, I haven't had a drink since."
Just up the street from his apartment was a bar named Rudy's and like a siren, it called to Michael "every single day." To stay sober, he attended an Alcoholics Anonymous meeting and hated every second of it. "I thought it was the stupidest thing I had ever heard."
Three months later, still without having touched a drink, he went to visit his friends in Chicago for Christmas break. He managed to stay sober while his friends drank, but it took a toll. 
"When I came back from Chicago I collapsed, emotionally and spiritually," he said. "I felt like my skin was falling off and I was going crazy."
He gave AA another shot. 
"When I went back, everything I heard there was brilliant," he said. "It hit my heart and it made perfect sense."
After that second meeting, Michael sat in his car and cried for 45 minutes. He kept going back to AA and through it he found a family that he describes as "offbeat guys and wacky artists" who supported him in ways his own family never could. They became his new nighthawks, showing Michael that if they had the strength to keep going, so did he.
"I met bohemians and badasses, and they were sober," he said. They taught him it was okay to be the black sheep. That he didn't have to live a conventional life and wear a suit and tie to work. 
When it was time for Michael to make amends to the people in his life he'd wronged, as is customary in the 12-step AA program, he struggled to pick up the phone and call his parents, specifically his mother.
"I told my sponsor I would never make amends to my mother. I'm not going to do it, she hurt me too much," he said. But over time Michael's sponsor convinced him to cross that bridge. 
"I had tried to keep her out of my life. I had done everything I could to not acknowledge her – no Mother's Day cards, no birthday wishes – and I made amends for that. Then she made amends to me right at the same time and said she wasn't a very good mother."
The same thing happened with Michael's father – and a new relationship grew. When his parents died last year, his father had been sober for 38 years, and Michael takes comfort in saying his relationship with them was "close."
"My Dad, who had never said he loved me, said he loved me five or six years ago," Michael said. "That was a huge benefit I wasn't expecting."
Another benefit Michael never anticipated was meeting the woman who would become his second wife, Celia, who joined The Peabody as a public educator a year after he started working there. She shared Michael's fascination with birds and for their first date they went on the Audubon Society's annual Christmas bird count. Now she works as a museum assistant for the museum's ornithology collection and they enjoy bird watching in their spare time.
Now 66 years old, with salt-and-pepper hair and two kids in college, Michael has been sober for more than three decades. His mind often wanders back to the common nighthawk that saved his life. 
Once sober he began making art related to the bird. Today, paper cutouts that fold into nighthawks hang from the ceilings of his home in Guilford, Conn. His 14-foot-long sculpture of a nighthawk wing bone – 17 times the size of a real one – used to hang in his living room. But now it resides at the Peabody Field Station on Horse Island, the largest of Connecticut's Thimble Islands in Long Island Sound.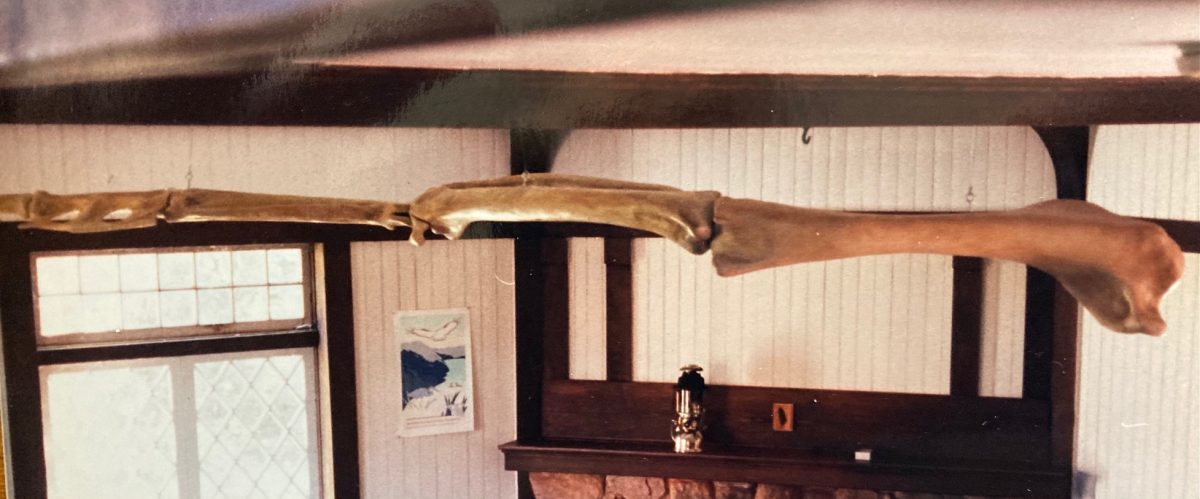 Michael explained how there used to be hundreds of nighthawks in New York City and New Haven but now there are close to none. Their decline is thought to be from a lack of suitable nesting spots. Nighthawks like to nest on gravel rooftops, which used to be abundant in cities, but now roofing materials have changed and the birds are forced to look elsewhere. 
Despite their diminishing numbers, Michael found a dead nighthawk in his driveway one morning back in 1995. He picked it up and could find no evidence of it being hit by a car or killed by a cat. The skin was not broken from a bullet hole and it looked perfectly intact. Michael explained how he usually can tell the cause of death from his years of experience with birds, but in this case, it was a mystery.
He taxidermied the bird and encased it in his own hand-built reliquary, which are typically containers built to house the relics of holy saints believed to be imbued with healing powers. He sculpted the internal organs of the bird, including a tiny plexiglass heart into which he drilled a hole and placed a drop of the nighthawk's blood. 
"I'm not Catholic but I wanted to make a devotional sculpture for it, because that's what the nighthawk is to me," he said.
The wooden face of the reliquary is adorned with an all-seeing eye, small jeweled objects, beads, red stars, anatomical hearts – and crowned with six three-dimensional sculpted nighthawk wings each with the bird's distinctive white patch. White-painted letters spell the title of the piece – "Gratias," Latin for "Grateful" – and speak to the artist's reverence for the bird that called to him on a long-ago summer night and saved his life.