Reporting Rise 2
March 20, 2023
Coordinated by Stony Brook University geoscientist Timothy Glotch, the university's School of Communication and Journalism teamed up with NASA's Goddard Space Flight Center to undertake Glotch's grant program, Remote In Situ and Synchrotron Studies for Science and Exploration, also known as RIS4E. A small group of students and faculty supervisors were able to accompany the team's research treks to observe, photograph, and interview the geoscientists as they tested instruments for possible use by astronauts and mapped volcanic features that might shed light on the terrain of the moon and Mars. This partnership between institutions has lasted more than five years since the grant was given in 2013.
The stories featured are from the eight SBU students who embarked on this opportunity in April 2022 and reported on the fieldwork of dozens of NASA scientists conducting research for the Artemis Project. The project aims to place humans on the Moon in 2025 to further explore other worlds in space, especially Mars.
Index
How study of volcanoes unearths mysteries of planets
In his element: Exploring seismic features with Jacob Richardson
From Passion Project to NASA: How Putting Data In Context Changed One Engineer's Career
Strolls Through a Volcanic Crater Help Astronauts Prepare for Walks on Moon
"Analog sites" on Earth provide NASA with test runs for beyond our planet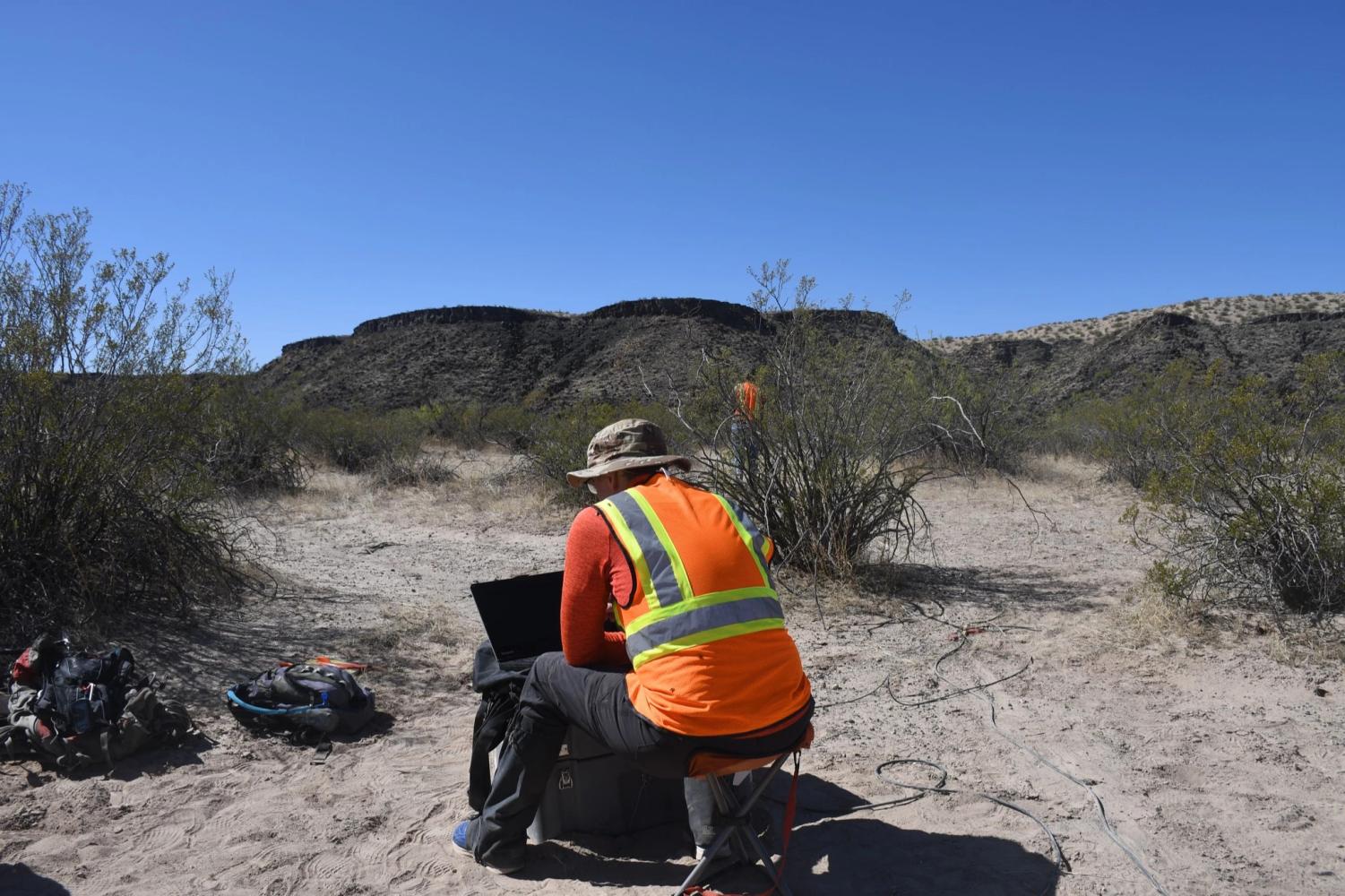 How Study of Volcanoes Unearths Mysteries of Planets
The earth has untold tales throughout its history – and so do other planets. Scientists, like Ernie Bell of NASA's Goddard Space Flight Center in Maryland, hope to uncover the stories embedded in the earth to help people gain a better understanding of other planets.
That's the premise that brought teams of scientists to check out seismic activity at Potrillo Volcanic Field in southern New Mexico. The volcanic field is a rich area of research for scientists who see it as an "analog," a kind of geological parallel, to bodies in space such as the moon and planets. They hope to not only better understand seismic activity but also any complications arising from living near a volcanic area.
"We gather the basic data to allow us to learn more about how the geological features of Kilbourne hole (Potrillo) were formed and will also help us figure out how to test and investigate features like this on other planets," said John West, a retired seismologist and engineer volunteering in the field to help collect data.
"
Science runs on data. The lead seismologist will take back this data to their office and analyze. Hopefully, we can look at what's underneath the crater and give them ideas on what works and what might not work to have astronauts do this on other planets.
— John West
Scientists are trying to understand what our planet has to offer and what other planets endure. For that, NASA scientists at Potrillo like West and Bell set up an array of geophones along the rims of Hunts Hole and Kilbourne Hole – 24 in all – spaced 16 feet apart.
The geophones — which are cylindrical white boxes that stand about 7 inches tall and are about 4 inches in diameter — record vibrations within the ground. You could think of it as a bat sending out frequencies and receiving them back, knowing what lies ahead.
Researchers place a small square metal slab near the geophone and hit the slab with a sledgehammer. The geophone starts picking up signals as soon as the hammer makes contact with the metal slab.
Scientists attached an electronic trigger to the sledgehammer that detects when the hammer has made contact with the slab. The geophone and the electronic trigger are wired to a data collector, which translates the raw information from both instruments to a computer, which outputs images of the sensors collected.
For each geophone planted, scientists repeat making contact with the slab at least 10 times to make sure they have gathered enough data on each geophone. Copious amounts of ash present in the area made it difficult for seismic instruments to work on the first try.
"We mainly looked at the southern rim of the volcano today," Bell said. "A part of that was to look at post-eruption deposition of eruptive material or post to eruptive materials which could be comparable to lunar craters and or lunar foldings."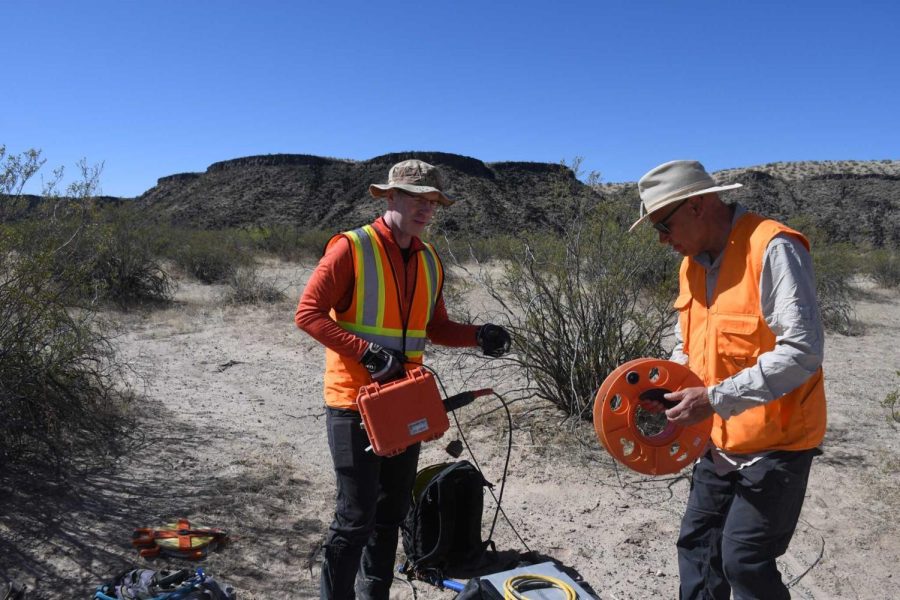 The craters of Potrillo are filled with volcanic ash. It looks pretty similar to sand, but it's much more refined, more like a powder. The ash sometimes can distort the waves that the geophone sends down into the earth. Ash and sand are very fine and loose materials that create "noise," making it difficult to collect good data.
Noise consists of unwanted frequencies that arise from different factors: Researchers repeat the tests and then overlay the data collected to have a better "image" of the data collected.
The environment surrounding the Potrillo Volcanic Field is harsh. The area has several animals to watch out for, including some venomous ones, such as rattlesnakes.
People live near volcanoes, too, which is why seismic research NASA is conducting is essential even though it's primarily geared toward other planetary bodies.
"Volcanoes are intrinsically a part of humans and a part of who we are as humans," said Jacob Richardson, a planetary scientist at NASA's Goddard Space Flight Center in Maryland. "Communities worldwide live near or around active volcanic fields, just as the one here at Potrillo. So many people, cities are built near or around volcanic fields."
He added: "Like Auckland, New Zealand, Managua, Nicaragua, Flagstaff, Arizona – If another volcano eruption occurs, people can have a bad time. It's important for volcano observatories in these places, and scientists, in general, to understand the processes that can make these eruptions happen.
"
As a planetary researcher, I get to look at other planets and bring some of that knowledge back to earth because we can see way more volcanoes in space than we can on earth. just because the earth erodes volcanoes quickly in a geologic time scale.
— Jacob Richardson, planetary scientist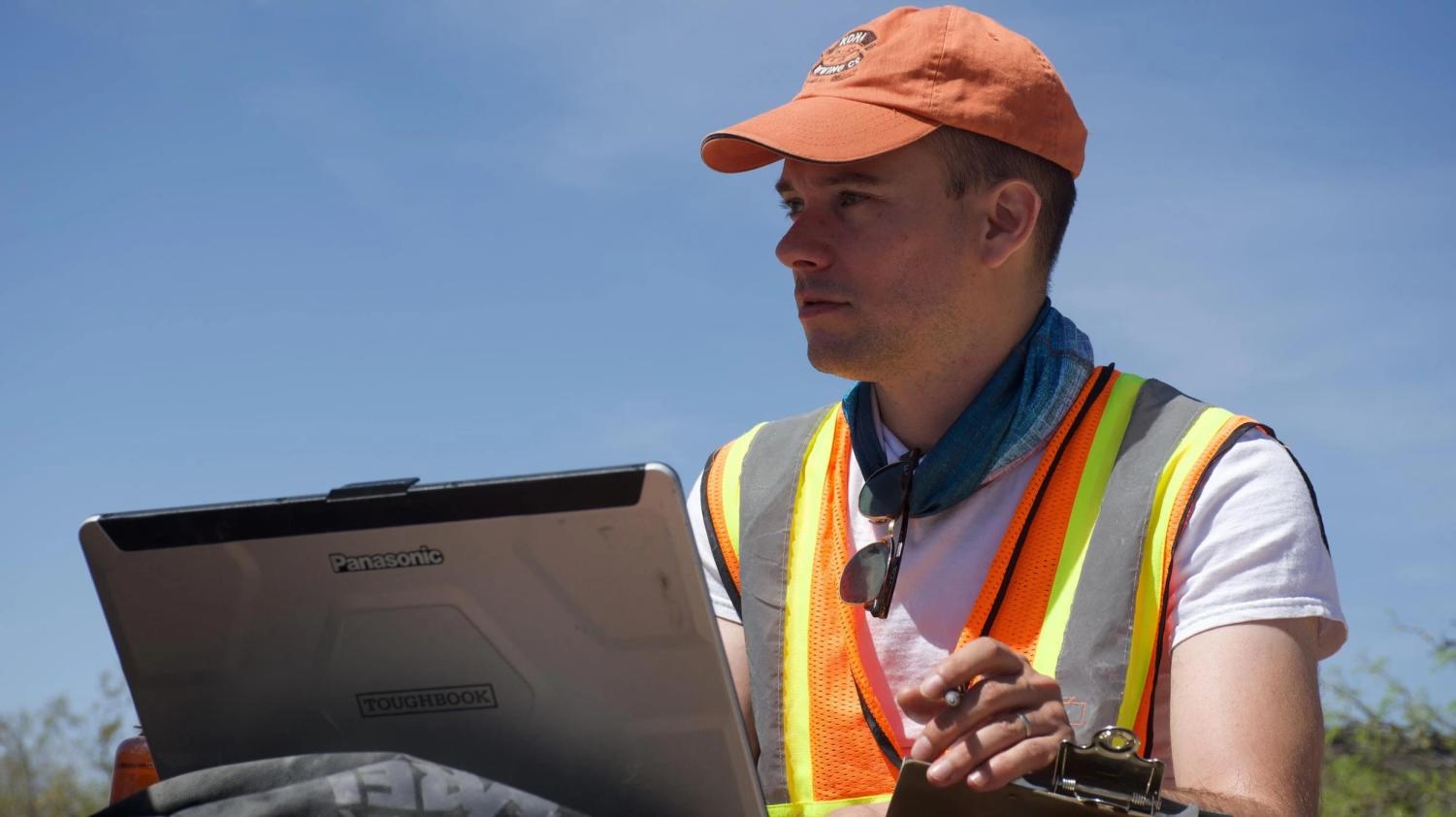 In his element, exploring seismic features with Jacob Richardson
When Jacob Richardson enters a field site, he never knows what he'll find. As lead investigator of the GEODES (Geophysical Exploration of the Dynamics and Evolution of the Solar System) team at NASA Goddard Space Flight Center, Richardson has traveled the world conducting geological research. Through utilization of geophysics, his team explores lunar lava flows and tectonic features on Earth to determine how they might relate to conditions on other planets.
This past April, GEODES took part in RISE2 Potrillo, an initiative funded by NASA that brought dozens of scientists to conduct experiments across New Mexico's vast Potrillo Volcanic Field. The site hosts an array of volcanoes that have been dormant for nearly 20,000 years.
"This sort of project is what I've been aiming for since I started grad school," Richardson said.
On April 23, the GEODES team hiked 30 minutes into Kilbourne Hole, the largest volcanic crater in the Potrillo Volcanic Field. The team focused primarily on analyzing seismic activity in the ground by laying out an electric geophone line. While one team member assessed the seismic wavelengths on the computer, another would strike a hammer into a metal plate to simulate seismic activity.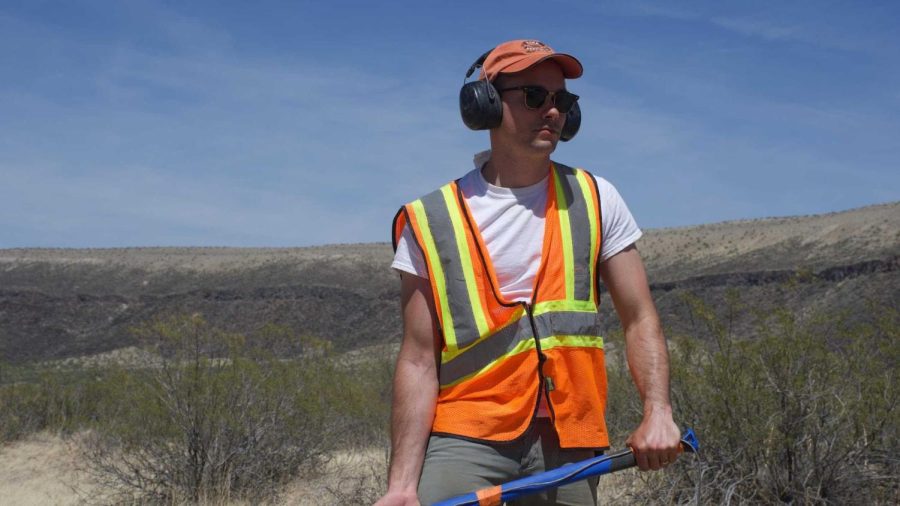 The data collected from these human-made trials will provide better insight into the possibility of Moonquakes occurring on the Moon when astronauts are present and provide insight to how they can respond should this happen. According to Richardson, the lack of gravity on the Moon as compared to Earth might make quakes less of a hazard on the Moon. For example, a closed habitat might provide ample protection. Nonetheless, the ongoing research of his team has one goal: Safety.
"We don't want to send people to another planetary body like the Moon without really knowing what that risk is," Richardson said.
After nearly five hours of data collection and numerous water breaks, Richardson excitedly suggested that the team take the scenic – and trickier – hike up and out of the crater. As the team took breaks throughout the climb, Richardson offered to take pictures, encouraging them to embrace the moment.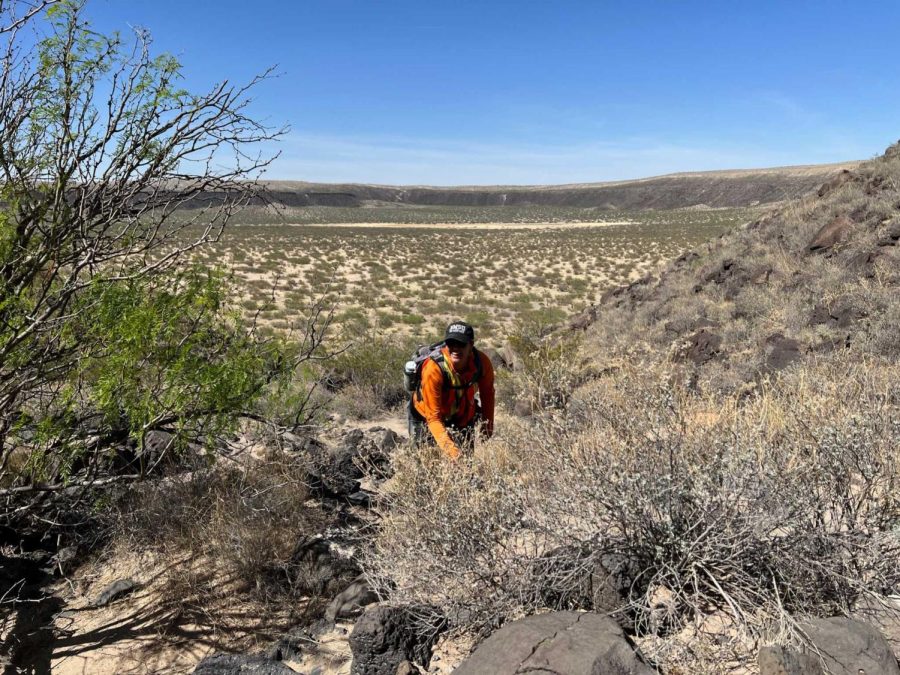 Upon reaching the top, he set down his pack – complete with a car battery to power the seismic equipment – and walked to the edge to enjoy the view.
"Just beautiful," he said.
Members of Richardson's field team at Potrillo included Linden Wike, a doctoral candidate of geology at University of Maryland. Set to graduate with her in 2025, Wike was recruited by Richardson in 2021 to join the GEODES team. She remembers being drawn to his approachability.
"I recall admiring how he was simultaneously professional and easy to approach on a more casual peer level in the field," Wike said.
Wike worked alongside Richardson on the RISE2 mission in 2021, and was eager to return with GEODES this year. Throughout this year's trip, she served multiple roles including data collection.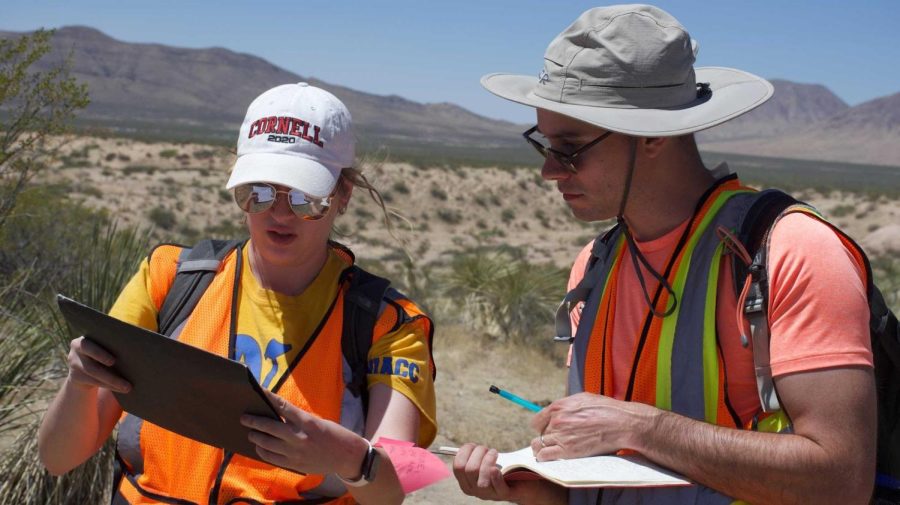 "Imposter syndrome is discussed a lot in our graduate program, especially between the female grad students, and I find it inspiring that I've never felt nervous to ask questions or felt inferior when I've interacted with Jacob," Wike said.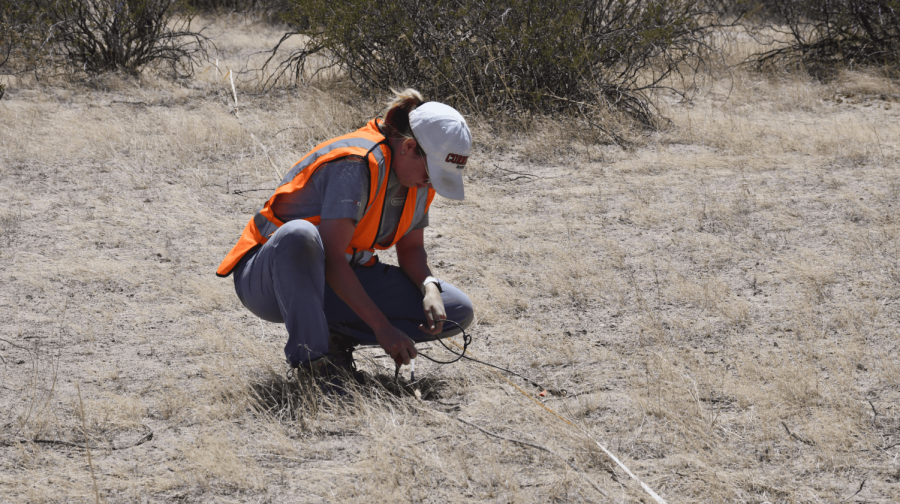 Like many students entering college, Richardson hadn't found his niche until a couple of semesters in. After taking a geology class, he became fascinated not only with science, but also the idea of studying the geophysical environment of other planets.
After finding inspiration in being tasked to map out volcanoes on Mars at an internship with NASA Goddard, Richardson trained for five years to receive his Ph.D. in Geology. The process of mapping volcanoes on earth helps mitigate potential hazards that can affect communities all around the world.
"We need to make sure that our evacuations or our safety procedures are the right ones and can save as many lives and as many people, property and livelihoods as possible," said Richardson.
His work has also brought him to colder climates including Iceland to study similar happenings through analyzing ice cores. Iceland's conditions are favorable in that it doesn't have vegetation and the lava flows can sometimes be between only one and five years old. However, Potrillo is one of few volcanic sites that are easily accessible, and also have very little erosion.
With field work comes the necessary preparation for many factors including temperature, wind, hydration, and communication. As if hiking the arid, unpaved terrain of Potrillo isn't enough, Richardson's team was often tasked with carrying equipment that weighed upwards of seventy pounds in and out of field locations. Despite his supervising position, Richardson can be found filling any roles required.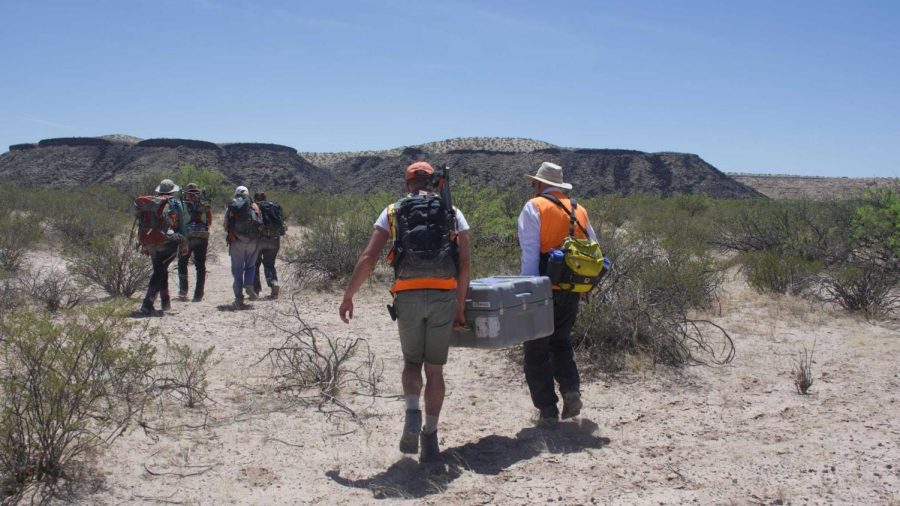 With varying landscapes serving as their office space, GEODES is right where they need to be. Under Richardson's leadership, the team will travel, explore, analyze, repeat, with hopes of gaining a better understanding of volcanic environments both on earth and up in space. As far as what comes next, Richardson expressed an eagerness to directly support astronauts in space.
"
I would totally like to build a geophysics instrument or help build a geophysical instrument that actually gets to be used by astronauts on the surface of another planet, that would be really, really spectacular.
— Jacob Richardson, GEODES lead investigator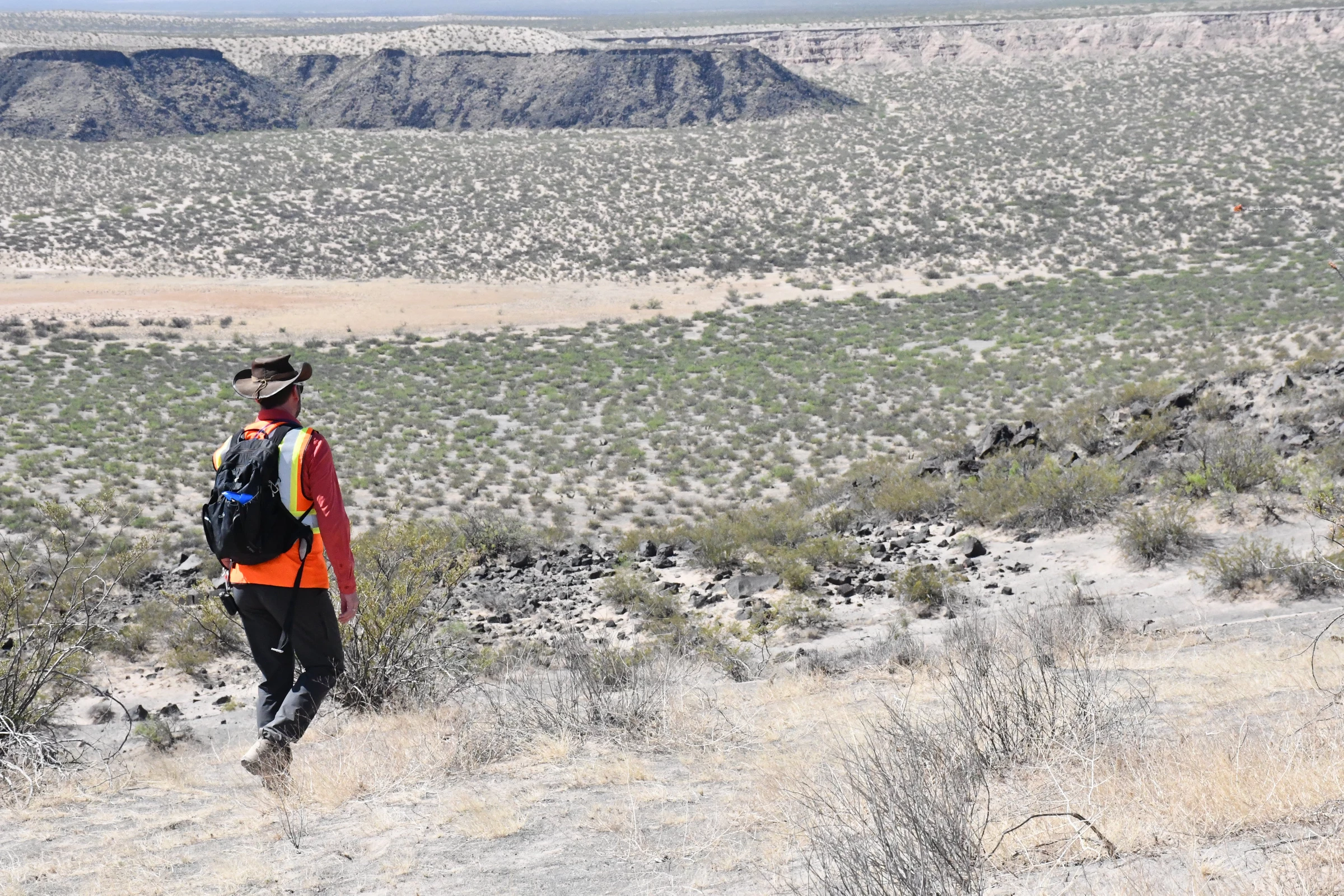 From Passion Project to NASA: How Putting Data In Context Changed One Engineer's Career
Ben Feist stood against the dusty wind at the Potrillo volcanic field. "Nothing like chasing your hat across the desert," he quipped. The software engineer stood in the midst of a 400-square-mile otherworldly environment of parched land, craters and lava flows.
He endured the New Mexican desert for NASA field work as the data subteam lead this past April. Field work is a rare opportunity for a computer scientist, he said. But Feist is familiar with the atypical; his path to NASA was unusual in itself.
Feist did not attend graduate school. He did not climb the ladder at NASA, as he said many do. Instead he worked in the private sector for 22 years. Then, on evenings and weekends for six years, he created a project fueled solely by passion.
It won him numerous awards — and it got him a job at NASA. The project was to recreate three of NASA's Apollo space missions for the public to experience, titled Apollo in Real Time.
Feist researched, reconstructed archival material and coded a website that essentially rebuilt NASA's historical records of Apollo 11, Apollo 13 and Apollo 17. The interactive, multimedia site features photographs, videos and audio of the original historical missions with synchronization and digital transcripts.
The public can relive the missions as they occurred in 1969, 1970 and 1972 by joining at one minute to launch, or by joining in-progress at exactly the same time they are visiting the site — only rewinding to over 50 years ago.
The engagement time of ApolloInRealTime.org is over 10 minutes: an "eternity for Internet standards," Feist said.
The Apollo 17 virtual journey features all mission control film footage, all on-board television and film footage, 302 hours of space-to-ground audio, all on-board recorder audio, over 3,600 photographs and 35,800 searchable utterances.
In response to Feist's project, Noah Petro of NASA's Goddard Space Flight Center in Maryland invited Feist to speak at the 44th anniversary of the Apollo 17 mission in December 2016. After the talk, NASA scientists Jacob Bleacher and Patrick Whelley said that Feist might have found an answer to a problem that had baffled NASA. And it had to do with contextual data.
Contextual data offers a broader look into the data collected by providing background information. In NASA's case, the amount of data astronauts will collect on future missions will only continue to grow, especially from the era of the Apollo missions. Feist's organization of data in ApolloInRealTime.org has the potential to solve that problem, for it could be applied to organizing and analyzing field data.
Feist created prototypes displaying how he could help the scientific community at NASA through organizing contextual data. It led to where he is now: a software engineer in data visualization and informatics in the Astromaterials Research & Exploration Science (ARES) division at Johnson Space Center in Houston as a Jacobs contractor since 2018.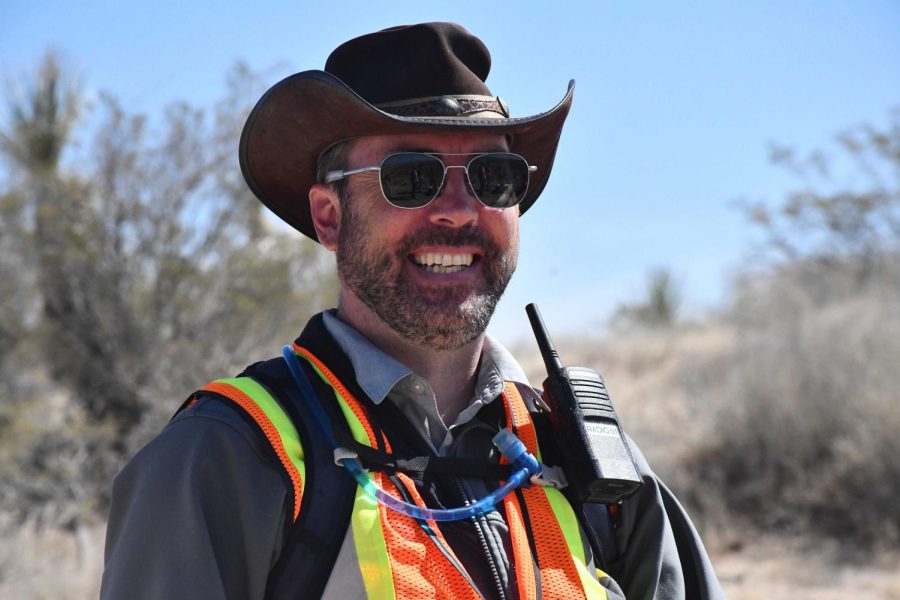 "I am part of a small team that designs and builds the systems for Artemis that will be used by mission control to plan and execute lunar space walks," Feist said. NASA's Artemis program is set to return astronauts to the Moon by 2025 and pave the way for human missions to Mars.
Feist is the creator of Collaborative Operations Data Activation (CODA), which is a team-effort, system-made software. "CODA is like a security camera," Feist said. It is a "contextual playback of the data" and was first released in May 2021.
CODA is primarily used on the International Space Station (ISS) and contains all data collected since 2013. "It's basically Apollo In Real Time for the space station," Feist said.
In April 2022, Remote, In Situ, and Synchrotron Studies for Science and Exploration 2 (RISE2) researchers returned to the Potrillo volcanic field in New Mexico to conduct an analog mission. The location, referred to as a planetary analog site, has extreme conditions that resemble those found on other worlds, such as the Moon and Mars.
"It is excellent to have Ben Feist on the field team," said Whelley, of NASA's Goddard Space Flight Center.
"
His background is different from most of the team, so his questions are different, from a different perspective. This makes us geologists double check our assumptions and be more effective scientists.
— NASA scientist Patrick Whelley
"Also, Ben is a fun person to be around," Whelley continued. "If Ben is on the team, sign me up."
On this past RISE2 trip, Feist was responsible for recording everything the mock astronauts completed on the scripted EVAs, including mock-up science data. EVAs, or extravehicular activities, are test experiments conducted outside a spacecraft. The EVAs at the Potrillo Volcanic Field were done by mock astronauts to help Artemis mission astronauts communicate with mission control.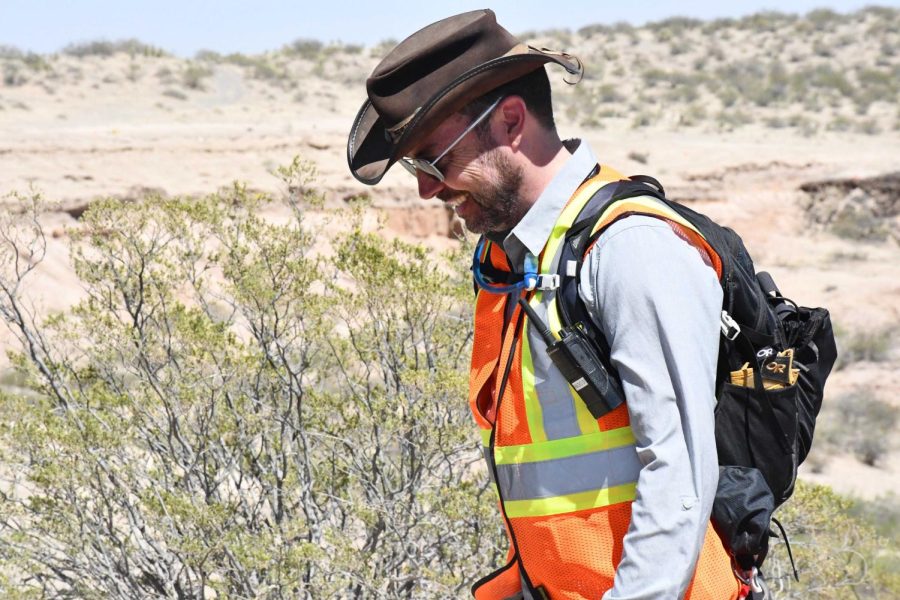 After gathering the scientific data in the field, Feist focused on putting it all into a contextual replay system, like CODA.
CODA stores test events, such as data collected from the RISE2 project, as well as activities that are conducted underwater in NASA's Neutral Buoyancy Laboratory. CODA is time-based, so its emphasis is on when something occurred. It captures video, audio, field notes and telemetry, which monitors the battery level and motion sensors on a mock spacesuit at any given time.
"Ben's work is transforming RISE2 science," said Cherie Achilles, of NASA's Goddard Space Flight Center. "By integrating individual datasets into a spectacular visual narrative, Ben is generating an integrative science product that is helping our science team understand the geologic history of Kilbourne Hole. He and the RISE2 science team are paving the way for how astronauts on the Moon can utilize in situ (on site) data to explore and investigate the lunar surface."
Feist was always interested in space. He said the Apollo 13 movie with Tom Hanks "changed everything" for him. It's what spurred his fascination with outer space — and with teamwork.
The movie depicts the true story of figuring out a way to get astronauts back to safety after their spacecraft experiences massive internal damage. Feist perceives Apollo 13 to be the most important Apollo mission because of the teamwork and communication in the control room.
Feist values saying yes. "It's the answer to challenges I don't know how I can possibly accomplish when they are given to me," he said. "Instead of having doubts around myself and saying, 'I'm not sure' or 'I'll see what I can do,' I just say 'yes.' And then I throw myself at the problem and try to get it done."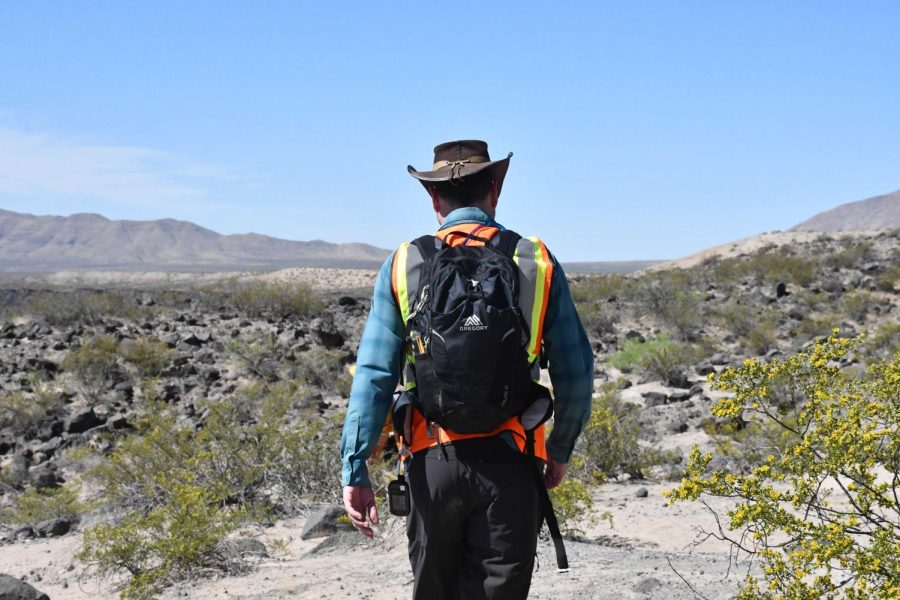 Feist graduated from Trent University in Ontario with a bachelor of arts in English literature and computer studies in 1996. Before NASA, Feist designed and built interactive experiences in the web development consulting industry, and he ran the technology disciplines at several marketing agencies.
This past year Feist won the Johnson Space Center Exceptional Software Award and the Johnson Space Center Director's Innovation Award. He is the recipient of more than 20 honors and awards.
Yet Feist remains humble. Though grateful, the awards are not his motivation. Instead he chases the zeal, the thrill and the fulfillment of doing what he loves. "Not often in life do people get to work on things they really care about and also contribute to the future of humanity," Feist said. "I feel like I've finally found a place that's like that."
"
Not often in life do people get to work on things they really care about and also contribute to the future of humanity. I feel like I've finally found a place that's like that.
— NASA Scientist Ben Feist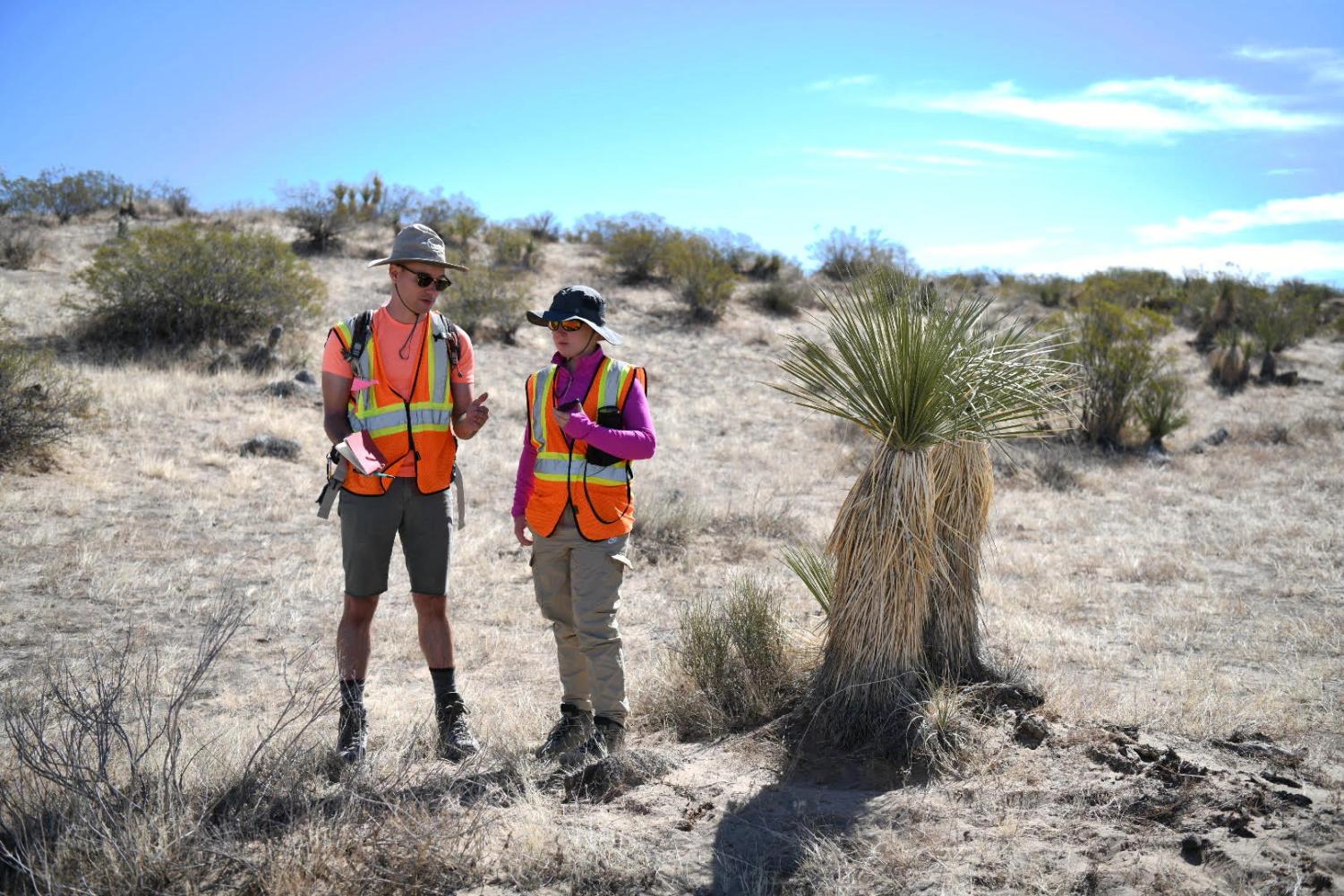 Strolls Through a Volcanic Crater Help Astronauts Prepare for Walks on Moon
"Houston, are you seeing this?" Caroline Kostak said into the GoPro propped on her shoulder.
The NASA engineer held up a rock she found during a traverse and showed it to the camera, twisting it and examining it in her hands. She's usually a researcher for the Remote, In Situ, and Synchrotron Studies for Science and Exploration (RISE2) Program, but today she's acting like an astronaut on the Moon collecting rock samples to bring back to Earth.
Kostak and almost every other scientist, graduate student and student journalist on the RISE2 trip to Potrillo Volcanic Field in New Mexico in late April of 2022 are the test subjects for the Extravehicular Activity (EVA) team's research. Their mission is to use data and maps gathered prior to the trip in a series of hypothetical space walks to find out what information is useful, accessible and necessary in reality.
"The whole RISE2 program is building up to a series of analog tests using astronauts," Zach Morse said.
"
So on one level the data helps show them what geologic information should be integrated into the EVA planning for real in Artemis…The other theme of RISE2 is how do you integrate all these different data sets and then visualize them in an efficient way.
— Zach Morse
RISE2 is part of yearslong research devoted to the Artemis Project, an ambitious plan to send a crew of humans to the Moon by 2025. Scientists use sites on Earth as models – or analogs – to study to prepare for astronauts to experience the environments on the moon and other planets.
The research at Potrillo Volcanic Field in New Mexico was done at two analog sites with physical similarities to the Moon. At Kilbourne Hole and Hunt's Hole, the test subjects pretended to be astronauts for an hour and were given missions on their pretend space walks. As they arrived at each station on the space walk, the person leading the team provided datasets for the area they arrived in along with a set of options of what they could do.
The first EVA took place at Kilbourne Hole, an almost two-mile-long volcanic crater. Two "astronauts" started their mission at the top of the rim where the person leading the EVA introduced them to the Moon and the mission of the day – to find three specific minerals, olivine, quartz and clinopyroxene, to take back to Earth and observe the landscape and report their sights orally all throughout the traverse.
To test the rocks for their minerals, the team walks around with a 3D printed GRX instrument. A real GRX could calculate the chemical composition of the rock, but the 3D printed one is just for show. Each time a subject pretends to use it, those assisting on the test pull up a dataset from an iPad which shows percentages of the chemicals within the sample as well as the quality of the test. This informs the astronauts on what to do next – collect the sample, do another test or move on to the next station.
Throughout the trials, each trained geologist was paired with someone with less geology knowledge. Reed Hopkins, a second-year doctoral student in geosciences at Stony Brook University, was paired with a journalism student from Stony Brook University. Hopkins is an expert on HSI data, or hyperspectral imagery, since he collects it with his team during RISE2 under the auspices of SBU geoscientist Deanne Rogers.
Since astronauts are not always scientists, the geologists for the most part took a step back and let their untrained partners observe. They lent their thoughts and observations to bolster the mission, but not to supercede the non-experts, to make the traverse a little more realistic.
"I took some of the data for the HSI… so when we got to that part, I had to like, not be biased," Hopkins said. "So I let my partner kind of interpret the data, because if I interpreted it, I'm more likely to interpret it the way a HSI person would interpret it. And I knew things about the data that weren't obvious from looking at it." . While there were no time constraints on these tests, in a real-life Moon traverse, time is of the essence. Astronauts only have so much oxygen, therefore a limited amount of time, to read and interpret data.
The next phase of the EVA team's tests will have not only time constraints, but also a limited amount of samples that can be collected. These components will add pressure to the tasks at hand, and the type of data/tools that are relevant to them will become more evident. Overall, the researchers are expecting the experiment to be higher fidelity.
"This is, you know, kind of one of the first opportunities where we try and integrate science into an operational context," said Cherie Achilles, the interim field lead for RISE2. "And if you've been following EVA's you know we did not achieve that all the time and so that's exactly what we wanted to learn."
Astronauts will be running through the EVAs next, emulating the space walks they will take in 2025 on the Artemis mission.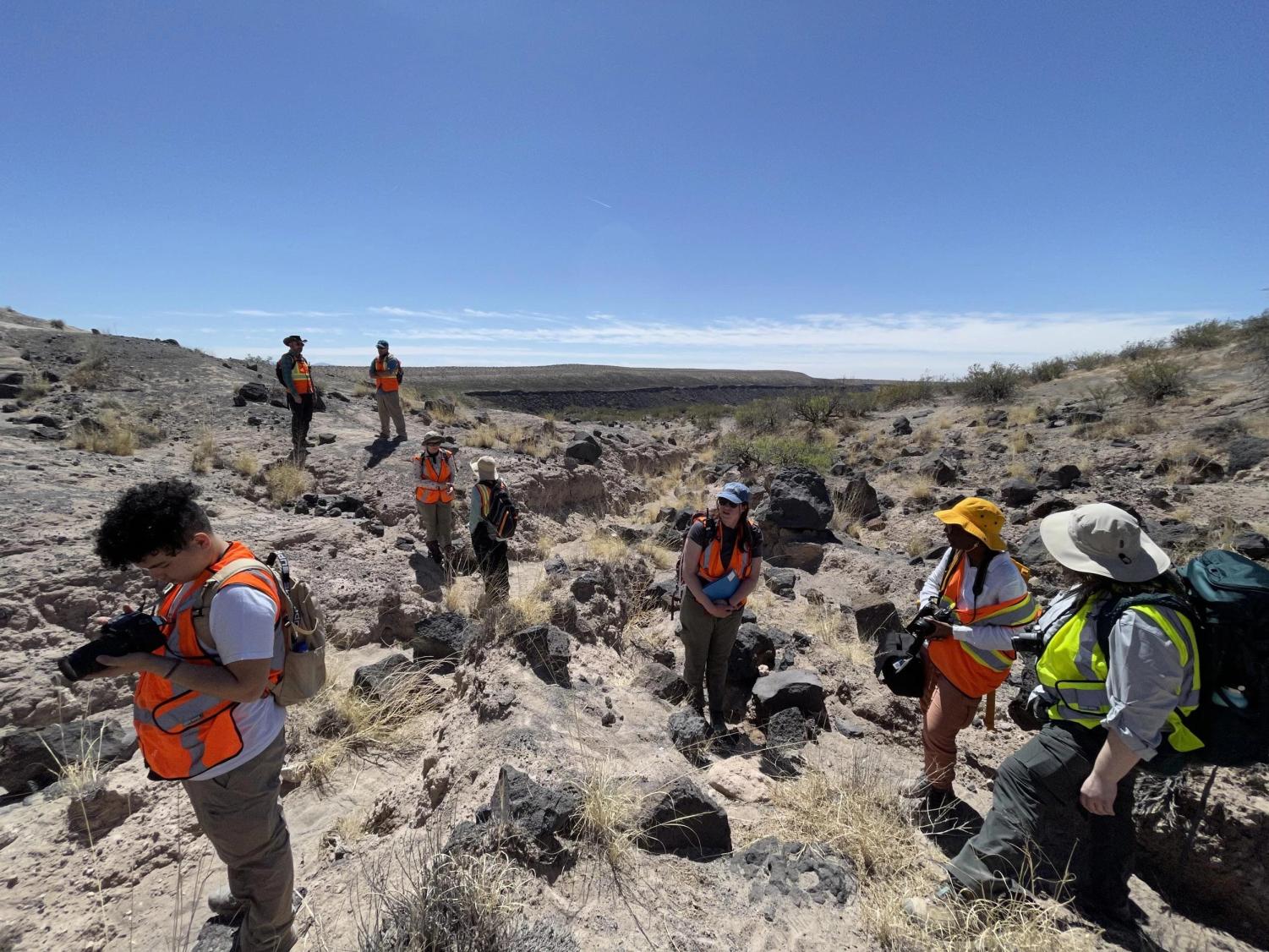 "Analog sites" on Earth provide NASA with test runs for beyond our planet
It just feels like we are on another planet.
That was the consensus among the arriving students at Kilbourne Hole, New Mexico. On a swelteringly hot day in the middle of the desert, seemingly undisturbed by human settlement, one would not be alone in mistaking it for the famous desert planets of Tatooine from Star Wars or Arrakis from Dune.
All that means is that NASA and the RISE2 team did their jobs right.
Kilbourne Hole is just one of many "planetary analog sites", or sites that are considered geographically, astro-biologically or compositionally similar to other known planetary bodies in our solar system and beyond. NASA and the RISE2 team utilize Kilbourne Hole and other sites across the planet to conduct research and tests that will inform the next generation of extraterrestrial exploration.
With NASA's renewed focus being on placing humans on the Moon again in 2025, and the ultimate goal being a sustainable moon colony a few years after that, the RISE2 team has returned to Kilbourne Hole (and its sister site, Hunt's Hole, to the south) to provide analog data for potential Moon-like scenarios.
"If you were to imagine an impact crater on the Moon, it would eject lots of different materials out into the surface," NASA scientist Stephen Scheidt said about Kilbourne Hole while taking unmanned aerial vehicle data of the site with his drone. "The crater here is quite similar [to the Moon] in that respect."
The site has an extensive history as an analog site for the Moon, dating back to January 1971 when the crew of Apollo 15 trained there to collect volcanic samples ahead of their mission to the Moon just six months later from July to August of that same year.
Much of the work being done today is similar to that conducted by the Apollo 15 team: simulated extravehicular activities, or EVAs, which are research missions that astronauts on the Moon or Mars or any planetary body would conduct while on their mission. These simulated missions at Kilbourne range from topographic surveys of the surface, to geological comparisons of the differing rock formations and compositions that layer the surrounding area, to general feedback from the "astronauts" on what data proved to be most useful in determining information about the "new planet" they had arrived on.
"With this location being volcanic, and for other locations in the solar system, we are interested to see if we can find and recognize samples that are also volcanic on other planets," Dr. Scheidt stated.
"
With this location being volcanic, and for other locations in the solar system, we are interested to see if we can find and recognize samples that are also volcanic on other planets.
— Stephen Scheidt
According to NASA, there are a variety of different planetary analog sites across the world that serve various purposes. Researchers have spent time in the Chilean Atacama desert, which has served as a planetary analog for Mars, to which NASA has plans to send humans after more extensive work on the Moon has been accomplished within the next few years.
"Ground truth science on Earth provides valuable information about our home planet," the agency said. "It also helps us to check our understanding of satellite imagery. When long-distance observations of Earth match with data gathered on the ground, we can be confident about using remote sensing on other worlds, too."
Others attempting to simulate the conditions of Jupiter's ice moon of Europa, whose liquid oceans beneath the ice have led scientists to believe that it is the most likely place in our solar system to have the conditions necessary to sustain life outside of Earth, have spent time living upon ice sheets in Greenland to better prepare for what might be encountered in a future crewed mission. Some researchers have even studied the harshest underwater volcanic environments like the Lō`ihi seamount in Hawaii to better understand how life might survive on the other planetary bodies in our solar system and possibly beyond.
Thus, as NASA continues its rapid approach towards returning to extraplanetary missions with humans again, these analog sites right here on Earth continue to provide the first steps towards preparing humans for life across the cosmos.
NASA said, "analog studies have already changed the way we understand our place in space, and there are many discoveries left to make. Future scientists, engineers, and astronauts will have exciting questions to answer. To succeed, they'll need to learn all they can from each other and our home planet."
"
Analog studies have already changed the way we understand our place in space, and there are many discoveries left to make. Future scientists, engineers, and astronauts will have exciting questions to answer. To succeed, they'll need to learn all they can from each other and our home planet.
— NASA