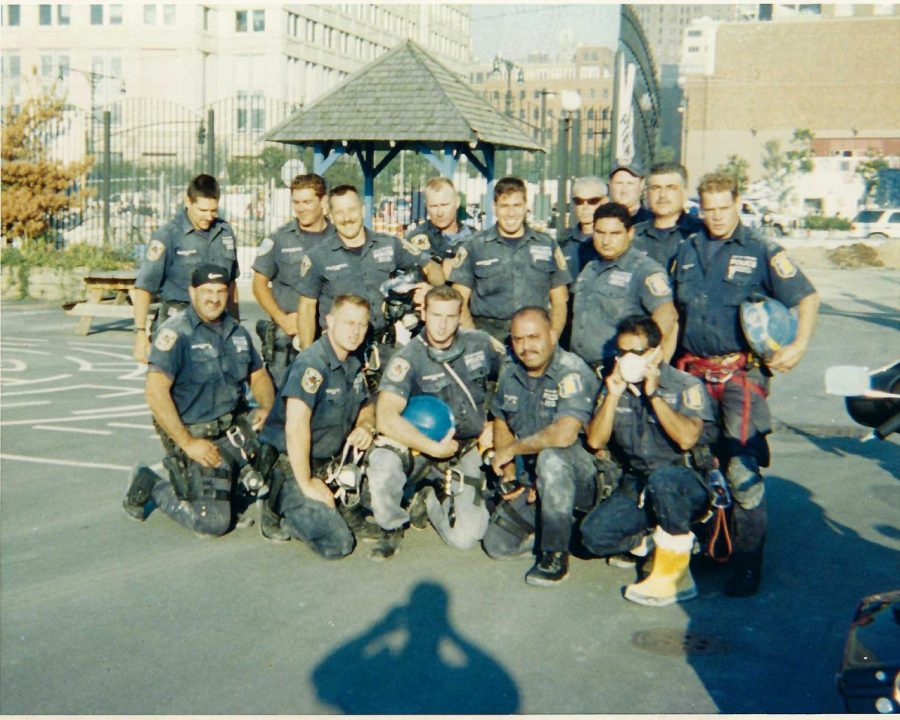 Robert Bock
"We saw the first plane come wheezing down the Hudson right over our heads."
October 30, 2022
Robert Bock was an officer assigned to the Emergency Service unit, working as a police officer for more than 33 years. 
"I was at a friend's house, heading to a meeting, about 10-15 blocks away from the World Trade Center. We were having a cup of coffee on his deck, mind you he lives on a hill, as we saw the first plane come wheezing down the Hudson right over our heads." It was only a few minutes after that the first plane hit the tower, and millions saw the event on the news. "I looked at our friend and we were in shock, it was all of the sudden that the second plane hit. We knew something was up." Bock headed home and prepared to be called with the rest of his unit down to the city. 
"I knew as soon as I got the call to come in for work that it was going to be a tremendous disaster," said Bock. Bock recalled that his emergency service unit had done some training in the past with Truck 3, which was the emergency service unit responsible for the city area. Bock says that they were being called in to assist Truck 3, but when both towers collapsed, everyone in Truck 3 was killed.
"We ended up responding to take their place. The training we did was never designed for that," said Bock.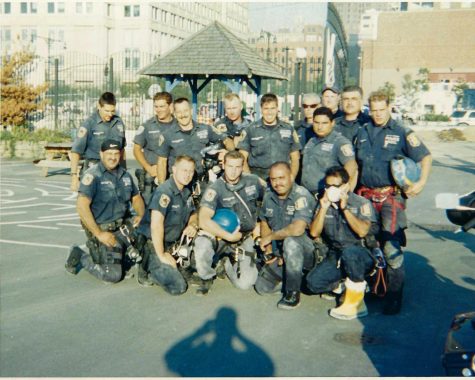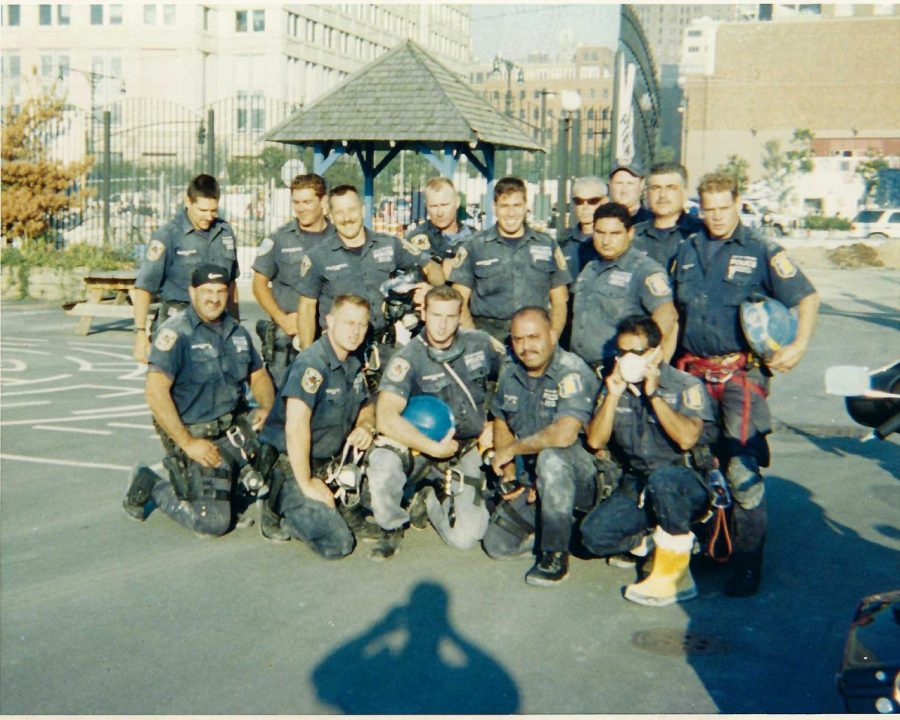 When he arrived "there was so much mass confusion and downtime," Bock said. He does not attribute that to any sort of lack of leadership, but more so to the unexpected and unprecedented nature of the situation. "The repeaters for our radios went out, they were actually mounted on the World Trade Center. The repeaters get the sound around the city as they magnify the sound. They were placed on the World Trade Center because they were the highest buildings. When they collapsed it knocked out our communications." 
The radios were not able to contact those who were far away but only those who were in an immediate radius. Bock said that this confusion made coordination difficult, but recognized that the first responders did an amazing job battling that adversity. "Multiple agencies were not able to talk to each other, the glitch in mass communication was a battle, but the issue has since been fixed.". 
Amid the chaos of technological glitches amidst the attacks, there were more difficulties for first responders to navigate. Shortly after the attacks, engineers arrived at the surrounding city blocks and set up lasers on many buildings. 
 "The lasers triangulate, sensing where every building is. There were lasers on each building, and one laser sensed that a building shifted," Bock said. He recalls hearing an alarm while working on top of the pile and looking for his partner so they could safely leave the area as the building around them was collapsing.
"The alarm was going off, and my partner was down a little but in the rubble among the caves and caverns. Next thing we knew the building was collapsing and I was yelling at him, 'Let's Go! Let's Go!' We had to haul up out of there." Bock remembers the feelings of panic but said "obviously I was not going to leave him, he is my best friend and my partner, I was not leaving him. I remember everyone was getting out and the building was collapsing. I was thinking 'We are going to die right here and now,' " adding "the buildings were coming down, so we were looking for a place to jump into, in between the buildings and rubble to run to and hope for the best… luckily fear makes you run quick, and we were able to get through this tunnel created by a building. It was the only way in and out, for over 1,000 people, if that building were to collapse, it was likely that there would be another 1,000 casualties." 
Bock says that he remembers the feeling of despair but said "If I am going down, I am going down with my partner." Bock is thankful for getting out of there in time, Bock was the only person who waited for his partner.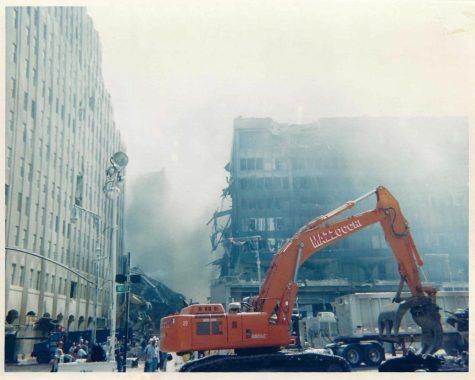 Bock recalls additional confusion in the morning of the attacks before even arriving at the sight. "Initially it was thought that the airline just crashed into the tower, a lot of different things were coming in . . . " When the second one hit, we heard that it could have been a missile. We did not know what was going on because there was no communication." Bock said it was not until he heard that the Pentagon was hit that he heard that America was under attack from another country. "Luckily for some reason, I was able to communicate with my wife who was back at home, and she was telling us all what she saw on the TV as developments were happening."
Bock recalls his emotions leaving the house the morning of the attacks. "My son was two years old, and my wife was pregnant. They were on my mind. We have a big family, so I told my family to grab as many canned foods as possible. We had no idea what was going to happen, we were under the impression that the country was under attack from another world power." said Bock. There were many stories circulating, and Bock recalls that once he got to the site of the attacks, there was no way of verifying anything that was going on due to the lack of communication services. 
On 9/11/2001, Bock headed down to the World Trade Center around noon and stayed until around 2 am. "When we went down there the first time, we were unprepared, we did not have proper masks. We had the blue masks that we currently use, as we carried them in case we were in contact with a dead body. With the amount of debris and dust and everything else that was down there." Bock added "we were at the point that we were going through them so much and there was a point that we were wearing the same ones for hours. The masks started off blue, and would change to become brown." 
It was not until the next day. Bock said that they were grabbing masks from Home Depot that were used by sheetrock workers. Bock recognizes that those masks were not able to prevent all the toxins that were in the air. "Those masks could not stop what we were breathing. You have to remember, we were breathing jet fuel, building materials, organic materials like rugs and computers and pulverized humans." Bock says that because of his experience, he suffers from about four to five certified illnesses from the attacks. He takes 9 different medications a day and sometimes uses a respirator to treat his ailments. 
Bock says that the process of treating his illnesses has changed over time. "Originally, when everything first started, we were appointed to our local hospitals for about the first year. Mount Sinai was developing its program for first responders at the time… now Mount Sinai deals with us and our personal doctors exclusively. It is much more organized, and it is extensively advanced. They will do it all for us, they give us only the best." 
Bock appreciates the organization of Mount Sinai and what their program has become but says "there were many who passed away that were not able to seek proper treatment before they passed away. There was a blip for 3 to 5 years that the hospital was turning those away that did not see treatment within a certain time frame, but then they realized that the illnesses from the attack were developing. People were getting cancers of all kinds that were developing over a span of time." 
Bock mentioned the passing of others involved down at Ground Zero, "Jimmy McCabe died of throat cancer because of 9/11. A young man named McClaughlin died of brain cancer. Both those incidents were diagnosed after the 5-year mark. Many were dying, and it took some time for the hospital to realize that the illnesses of first responders were continuous . . . New lists of illnesses come out every day of illnesses attributed to 9/11. Mount Sinai realizes that now, and they are treating those seeking treatment the right way." Bock said. 
Bock emphasized that there are only three times in American history that more than 3,000 Americans were killed in one day, saying "There was no plan for this." 
Bock says "I have not been down to the city since then, I have not been back and I won't go back. It is a bad memory." Bock says that if he ever decided to go back, he will only go with those who he was there with. "On top of the rubble I remember my boots sliding from how hot the ground was under me, we had the fire department spray our legs to cool them down. In our rescue mission we saw limbs, torsos and bodies that were without clothes, as they were completely burned off and pulverized. I remember looking down and asking myself, 'where did all the desks and computers go?'… The memories to this day are still vivid as ever," he said. 
Bock added that "I try to suppress and not think about many of the memories, but when you talk about those moments it comes back to you. You cannot dwell on that shit, because it will eat you up, it will make you insane. But people ask, would I do it again, would I go down there again? I say I wouldn't but I know that if I was presented with that situation again, I would 100% be back down there with the guys I was with, even knowing the repercussions." The quality of the character of Bock and many other first responders is what drove them to help others, and sacrifice their own health and safety. It is those people that we should remember and be thankful for amidst the horrible memories of the attacks.