A Few Miles Away, But Two Worlds Apart
Long history of segregation has caused educational inequities on Long Island
September 7, 2022
Daniela Figueroa stood in a line outside on a cold December morning, waiting to go through the metal detectors. She was worried the long queue would make her late — not for a flight, but for first period at Hempstead High School.
After removing her gold-colored jewelry and passing through one of the only two metal detectors at the front of Hempstead High School, she then had to scan her student identification card to continue through the thorough process. Like every morning, the security guard then searched through her Snoopy book bag looking for potential hazards.
She then walked towards her locker past a sea of 2,500 kids with caramel-colored and brown skin. She arrived 30 minutes early before first period, but still arrived three minutes late to her classroom. This soon became the norm for Figeroa.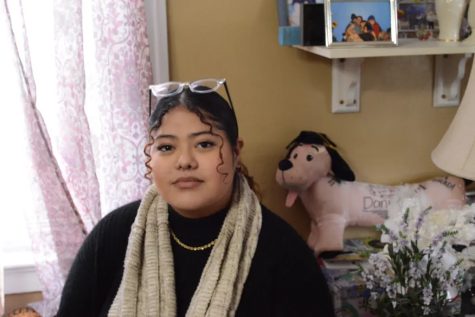 Her friends at school have always been Hispanic and Black — which also makes up the majority of the student population at Hempstead High School where about 3 in 4 students are Hispanic and 1 in 5 students are Black.
During her freshman and sophomore years, she would have to squeeze her way through over 35 students in a single classroom. That number soon dwindled as she said students would become involved in gang-related activities and eventually drop out.
"There were fights every single day and at that point, it didn't even faze the security guards because there were so many," she remembered.
Comparing Hempstead High School to a mall, she said students would come from all areas of the school to see who was involved in the latest fight. The worst fight she ever witnessed was between gangs, but it wasn't unusual for her.
As a result of student expulsions and drop outs, she soon saw her rank go up and less and less students in the seats around her.
She took honors and three Advanced Placement classes during her time there. About one in ten students at Hempstead High School take at least one AP exam, and half of those students pass the class.
After class, she would gear up for badminton and volleyball practices. There were days when her team would share run-down gymnasiums with other teams because of a lack of space.
Figueroa would find herself amazed at the "perfect uniforms" and brand new knee pads other teams would have. During away games, she remembers walking into a gymnasium and feeling the rush of cool air — something that her home gymnasium didn't have or could even afford.
Figueroa would return home and then get ready for her job at Planned Parenthood. This was one of her two jobs, which was a theme she frequently saw throughout Hempstead High School.
This is a theme not too often seen in Garden City High School, which is about less than three miles away from Hempstead High School. The majority White school located in Garden City, NY is not only visually different from Hempstead's majority Black and Hispanic school, but the funding vastly contrasts.
About 18 out of every 25 students at Hempstead High School are eligible for free lunch, while only 1 out of every 25 students at Garden City High School are. Students from families with incomes at or below around $34,000 are eligible for free meals, which also indicate a sign of poverty.
As a first generation student, Figueroa said she felt she had to support herself. She knew she was going to have to learn how to balance work, school and extracurriculars. She compared her day-to-day responsibilities to those of wealthier students from other districts who maybe didn't need the money and could focus on their schoolwork and organizations. Figueroa said there were many students like her who deserved more opportunities, but couldn't because of the school district they were in.
"There are so many students of color that have the same abilities," she said. "But they never even understand that they even have those abilities because they never get a chance to express it."
Three miles away and two worlds apart
All that divides Figueroa and students with more resources is a running train track.

On one side of the tracks, you can find laundromats, bodegas and low-income housing. This side is home to a population in which almost half of its residents are Hispanic, the other half are Black and only one out of every 100 residents is White.

On the other side is the town of Garden City, where you'll find large department stores, a sea of trees and homes with multiple floors and drive-in driveways. Garden City has a population in which nine out of every 10 residents are White, three out of every 50 residents are Hispanic and only one out of every 50 residents are Black.

The differences are physically evident as you move from one town to the next.

"Once you pass by Clinton Street and you see the trees, you see everything is so different," Figueroa said. "I feel like it never clicked to me what was going on. When I was younger, I always thought Garden City just has more trees and that's why it's called that."

The 20-year-old current sophomore psychology major at Farmingdale State College said she now knows Hempstead and Garden City were designed to be that way.

Maya Brown

Originally published in May 2022. This story is under construction.