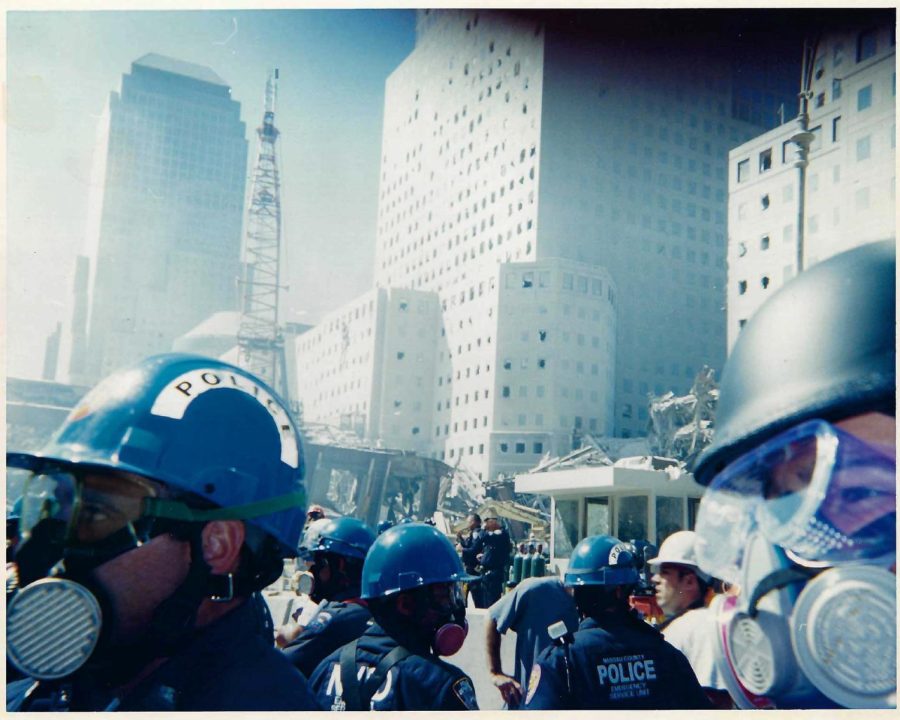 Rob Montalvo
"I was spending my 36th birthday digging for people, it was just so overwhelming."
October 30, 2022
"I was home because I had worked until 1 AM the previous night. I got a phone call from my partner around 8:30 AM asking me if I saw what was going on in the city. I turned on the news, and we thought it was a small plane, and we were not sure what it was. Shortly after we got a phone call from work telling us that 'We are not sure what is going on, but please be prepared in case we have to do a rapid response.' I stayed on the phone with my partner for a while, and I saw the second plane hit. At that moment I knew that this was not going to be good and that it was not an accident. Shortly thereafter we got the call to come in," says Rob Montalvo, former Yonkers Emergency Service member involved with the Special Operations Division (known as SOD). 
On the way down to the city Montalvo recalls the eeriness of the morning, saying "just the silence, there were no cars, there was no noise. We were loaded into these cars called Deuce and a half's with 15 to 20 of us in each, with our tools. But still there was just silence." Once Montalvo arrived in the city he saw people walking away from the sight of the attacks. He recalls the moment saying "We can see the smoke off in the distance and for as long as we could see there were people walking away from the sight very quietly. It was unnerving because we did not know what we were going into." Fear in the form of silence was very real for Montalvo recalled.
"When we first got to Ground Zero, they were trying to get people to the site itself to evacuate the surrounding buildings. I was assigned to evacuate a senior citizen's home that was a block and a half from Ground Zero, they were going to be taken on buses back to Yonkers," Montalvo said. 
"As we were just finishing up, we heard that Tower 7 was going to collapse. In the process of just finishing evacuating the people, that building came down. It sounded like a freight train as the floors fell on themselves. It was one of the scariest things I have ever been involved with," he said. Montalvo recalls the visions of the event saying "the plume of smoke chased us down the street, we were running trying to take cover, and we found a cubby hole. The clear day turned into night." Montalvo says that he could not envision what it must have been like when Towers 1 and 2 collapsed.
Montalvo wanted to make sure that he was helping people but he says "we did not know what was going on, there was so much information coming at us and we were all trying to help ourselves and each other. We still did not know what was going on, we had no communication back to our families." Montalvo said "It was very tense, we were not sure if there were more planes coming for New York." 
In the days after, Montalvo was still assigned to help at Ground Zero. He spent the first two days there and was assigned a day off before being placed on 12-hour tours followed by a day off and another 12-hour tour on the pile. Following that, officers were assigned to work 2-hour tours on their normal jobs. "That schedule lasted until about the third week of October. I went down on the 11th, I stayed until the 12th, and after that I went once a week for about three to four weeks," he said.
"The thing that sticks with me personally is that my birthday is September 12th. I remember spending my 36th birthday, on the pile digging, and I was just thinking to myself 'please let me find something or somebody as a birthday present.' I was spending my 36th birthday digging for people, it was just so overwhelming," Montalvo recalled. 
He says that he and other first responders talk frequently and ask "where did everything go, the phones, the filing cabinets, the desks because everything was just basically dust? We did what we had to do, but when we had time to really reflect, we were just taken back over the fact that when you think about it, we did not see any of those things, everything just turned into dust." 
Montalvo said that in his nearly 30 years in the police department that never in his time "did I feel so close and appreciated by people." Montalvo says that the community in America in the 6 to 8 months after was outstanding, saying "everyone came together, it showed how powerful this country could be when it comes together as we did. It took something so terrible for all of us to come together." Montalvo says four years after the attack, he became a detective, saying "I wanted to be able to investigate and get to the problems that led to the attacks. I think about some of the things that slipped through the cracks and I felt like maybe if I can make a difference and investigate this and maybe if I followed up on these things in a different capacity outside of the patrol capacity I could make a difference. I wanted to put in my share to make sure that this never happened again." Montalvo was a detective for the next 14 years of his career. 
Montalvo spoke of his life at the time of the attacks, saying "My wife was pregnant with my daughter who was born in December of that year. My outlook was totally different as to what was going on, but it scared me since I did not know what I was getting into once I was down there." Montalvo mentions the lack of connection to communication services, as he emphasized that because of those difficulties he was not only not able to check in with his family to make sure that they were okay, but he was not able to stay informed on what was going on in the world in regard to the other attacks. "Everyone had their family on their mind, it was pretty God damn scary." Montalvo said. He recalls staying overnight in the city from the 11th to the 12th, while he was going back and forth making sure equipment was brought to appropriate places. "I was assigned to a team nicknamed the 'chain gain' and we were digging, moving the piles . . .  There was no time to be tired. . . "When you first went down there we were in shock, we had no idea what was going on, so we had to do things fast just in case things were to go south again." He recalls hearing the horns going off, indicating buildings were about to collapse. "When you heard those horns it was as if you were running for your life because you did not know what was going to happen. When you hear those horns you drop everything and you run for cover, it happens quite a few times, it scares the shit out of you."
Every time 9/11 comes around Montalvo and the group of people he was there with look to find time to reflect on their memories and speak with one another. "It seems as though every time we sit down and speak, we kind of remember a little something, or someone mentions a little something and the memories come back" he continues to say "although we are now all retired. That is likely the largest event that many of us will ever be involved with."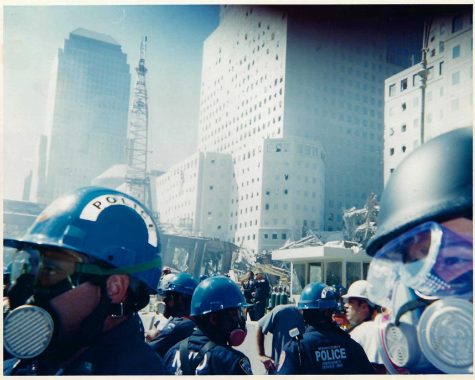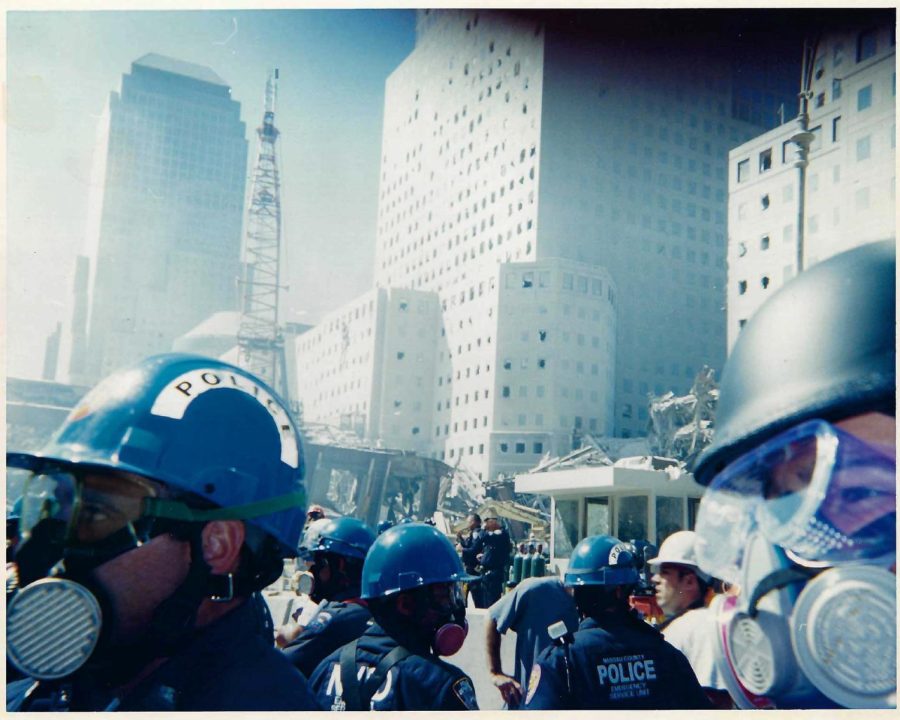 When Montalvo was asked of his experience visiting the city, 20 years after the attacks he said "I have not been back since then. I tried going back when they invited me to the museum opening but I just could not go." Montalvo mentioned a training that he and a former partner were assigned to attend, he said "the training was only three city blocks away from Ground Zero. I said to myself 'one day after training I will go over there with him and see how I do'," adding "I was able to walk about a block and a half, I started shaking, I could not bring myself to go over there. To this day I have not been back. I get full of emotion and this … very tense feeling. Even when I drive on the West Side Highway, I still get that feeling." Montalvo says that if he ever goes back it will be with the group of men who he was with when he initially went down there. 
Montalvo voiced that he ensured to educate his daughter on the details he remembers from the attacks. He said "I had her watch news footage and I showed her pictures and I sat down and discussed everything with her. She has a very good first account of what went down and how it went down." Through his daughter, Montalvo looked to have his account of the event live on, and he is very proud of how she had done so, he says "in an eighth-grade project, she did an amazing job telling the story, her teacher and class loved it." Montalvo says the reason he took the time to share his account with his daughter is because she mentioned how briefly the attacks were discussed in her school's curriculum. Montalvo emphasized the importance of sharing these accounts with younger generations so the stories of first responders never get lost. 
Looking back on the attacks is anything but easy for first responders. Montalvo says he is blessed in the fact he has not suffered any physical ailments from the attacks, but he acknowledges the reality of the psychological effects of the attacks. "It is always the week of and the week before the attacks that I get this eerie feeling." He adds, "I have to say my birthday is not the same, I do not enjoy it as much as I used to. I prefer it to be a quiet day of reflection, the event changed the world and it changed my life." Montalvo says that despite the attacks being two decades ago he "feels like he is there" when the week of the anniversary comes around.